The Oceano sightings during whale watching tours off the coast of La Gomera.
The latest Oceano sightings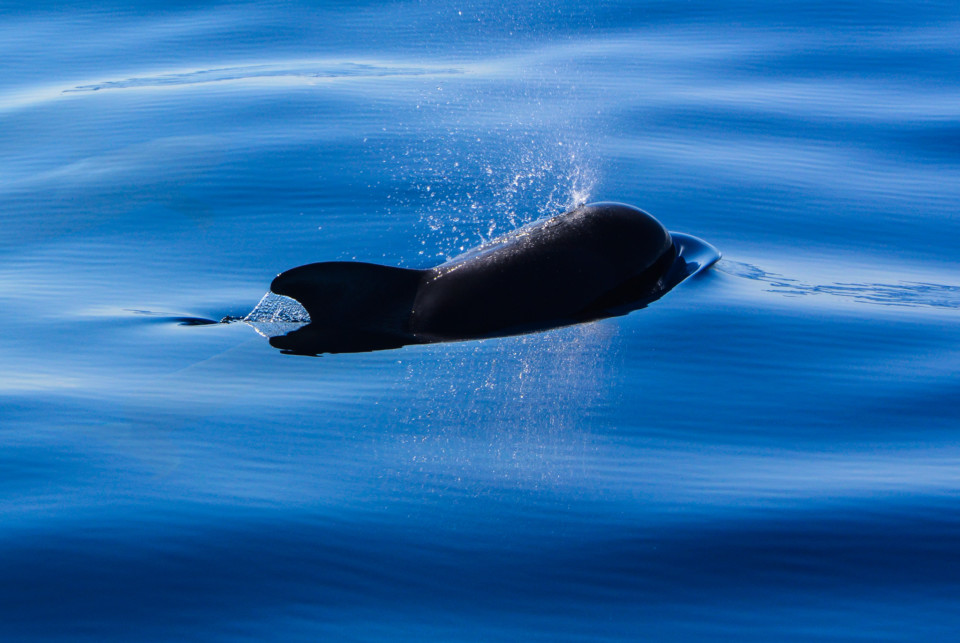 Valle Gran Rey / La Gomera Sighting 15 March 2020: Atlantic spotted dolphins, Bottlenose dolphins, Rough-toothed ...
Sightings 14.03.2020: Bottlenose dolphins, Atlantic spotted dolphins and Common Dolphins.
Past Oceano Sightings from 2020
Note: Since Monday 16 March 2020, we have not been able to hold any rides due to the restrictions.
Samstag, 14. März 2020
Sichtungen – Sightings – Avistamientos – Observations La Gomera
Grosse Tümmler – Bottlenose dolphins – Delfines mulares
Fleckendelfine – Atlantic spotted dolphins – Delfines moteados
Pilotwale – Pilot whales – Calderones tropicales
Rauzahndelfine – Rough-Toothed dolphins – Delfines de dientes rugosos
Sichtungen am Freitag, 13. März 2020
Sichtungen – Sightings – Avistamientos – Observations La Gomera
Grosse Tümmler – Bottlenose dolphins – Delfines mulares
Fleckendelfine – Atlantic spotted dolphins – Delfines moteados
Gewöhnliche Delfine – Common Dolphins – Delfines comunes
Sichtungen am Donnerstag, 12. März 2020
Sichtungen – Sightings – Avistamientos – Observations La Gomera
Grosse Tümmler – Bottlenose dolphins – Delfines mulares
Fleckendelfine – Atlantic spotted dolphins – Delfines moteados
Pilotwale – Pilot whales – Calderones tropicales
Brydewal – Bryde's whale – Rorcual tropical- Rorqual tropical
Mittwoch, 11. März 2020
Sichtungen – Sightings – Avistamientos – Observations La Gomera
Fleckendelfine – Atlantic spotted dolphins – Delfines moteados
Eingestellt von OCEANO WHALE WATCHING LA GOMERA
Dienstag, 10. März 2020
Sichtungen – Sightings – Avistamientos – Observations La Gomera
Grosse Tümmler – Bottlenose dolphins – Delfines mulares
Fleckendelfine – Atlantic spotted dolphins – Delfines moteados
Pilotwale – Pilot whales – Calderones tropicales
Montag, 9. März 2020
Sichtungen – Sightings – Avistamientos – Observations La Gomera
Bartenwal – Baleen whale – Rorcual
Grosse Tümmler – Bottlenose dolphins – Delfines mulares
Pilotwale – Pilot whales – Calderones tropicales
Sonntag, 8. März 2020
Sichtungen – Sightings – Avistamientos – Observations La Gomera
Fleckendelfine – Atlantic spotted dolphins – Delfines moteados
Bartenwal – Baleen whale – Rorcual
Pilotwale – Pilot whales – Calderones tropicales
Gewöhnliche Delfine – Common Dolphins – Delfines comunes
Grosse Tümmler – Bottlenose dolphins – Delfines mulares
Samstag, 7. März 2020
Sichtungen – Sightings – Avistamientos – Observations La Gomera
Fleckendelfine – Atlantic spotted dolphins – Delfines moteados
Pilotwale – Pilot whales – Calderones tropicales
Grosse Tümmler – Bottlenose dolphins – Delfines mulares
Bartenwal – Baleen whale – Rorcual
Freitag, 6. März 2020
Sichtungen – Sightings – Avistamientos – Observations La Gomera
Pilotwale – Pilot whales – Calderones tropicales
Grosse Tümmler – Bottlenose dolphins – Delfines mulares
Fleckendelfine – Atlantic spotted dolphins – Delfines moteados
Donnerstag, 5. März 2020
Sichtungen – Sightings – Avistamientos – Observations La Gomera
Pilotwale – Pilot whales – Calderones tropicales
Fleckendelfine – Atlantic spotted dolphins – Delfines moteados
Mittwoch, 4. März 2020
Sichtungen – Sightings – Avistamientos – Observations La Gomera
Pilotwale – Pilot whales – Calderones tropicales
Grosse Tümmler – Bottlenose dolphins – Delfines mulares
Fleckendelfine – Atlantic spotted dolphins – Delfines moteados
Dienstag, 3. März 2020
Sichtungen – Sightings – Avistamientos – Observations La Gomera
Pilotwale – Pilot whales – Calderones tropicales
Gewöhnliche Delfine – Common Dolphins – Delfines comunes
Grosse Tümmler – Bottlenose dolphins – Delfines mulares
Fleckendelfine – Atlantic spotted dolphins – Delfines moteados
Montag, 2. März 2020
Sichtungen – Sightings – Avistamientos – Observations La Gomera
Grosse Tümmler – Bottlenose dolphins – Delfines mulares
Rauzahndelfin – Rough-Toothed dolphin – Delfin de dientes rugosos
Sonntag, 1. März 2020
Sichtungen – Sightings – Avistamientos – Observations La Gomera
Fleckendelfine – Atlantic spotted dolphins – Delfines moteados
Samstag, 29. Februar 2020
Sichtungen – Sightings – Avistamientos – Observations La Gomera
Pilotwale – Pilot whales – Calderones tropicales
Grosse Tümmler – Bottlenose dolphins – Delfines mulares
Meeresschildkröte – Sea turtle – Tortuga marina
Freitag, 28. Februar 2020
Sichtungen – Sightings – Avistamientos – Observations La Gomera
Pilotwale – Pilot whales – Calderones tropicales
Fleckendelfine – Atlantic spotted dolphins – Delfines moteados
Donnerstag, 27. Februar 2020
Sichtungen – Sightings – Avistamientos – Observations La Gomera
Pilotwale – Pilot whales – Calderones tropicales
Fleckendelfine – Atlantic spotted dolphins – Delfines moteados
Grosse Tümmler – Bottlenose dolphins – Delfines mulares
Mittwoch, 26. Februar 2020
Sichtungen – Sightings – Avistamientos – Observations La Gomera
Gewöhnliche Delfine – Common Dolphins – Delfines comunes
Dienstag, 25. Februar 2020
Sichtungen – Sightings – Avistamientos – Observations La Gomera
Pilotwale – Pilot whales – Calderones tropicales
Fleckendelfine – Atlantic spotted dolphins – Delfines moteados
Grosse Tümmler – Bottlenose dolphins – Delfines mulares
Samstag, 22. Februar 2020
Sichtungen – Sightings – Avistamientos – Observations La Gomera
Pilotwale – Pilot whales – Calderones tropicales
Fleckendelfine – Atlantic spotted dolphins – Delfines moteados
Grosse Tümmler – Bottlenose dolphins – Delfines mulares
Freitag, 21. Februar 2020
Sichtungen – Sightings – Avistamientos – Observations La Gomera
Pilotwale – Pilot whales – Calderones tropicales
Fleckendelfine – Atlantic spotted dolphins – Delfines moteados
Donnerstag, 20. Februar 2020
Sichtungen – Sightings – Avistamientos – Observations La Gomera
Fleckendelfine – Atlantic spotted dolphins – Delfines moteados
Pilotwale – Pilot whales – Calderones tropicales
Meeresschildkröte – Sea turtle – Tortuga marina
Brydewal – Bryde's whale – Rorcual tropical- Rorqual tropical
Mittwoch, 19. Februar 2020
Sichtungen – Sightings – Avistamientos – Observations La Gomera
Pilotwale – Pilot whales – Calderones tropicales
Grosse Tümmler – Bottlenose dolphins – Delfines mulares
Fleckendelfine – Atlantic spotted dolphins – Delfines moteados
Dienstag, 18. Februar 2020
Sichtungen – Sightings – Avistamientos – Observations La Gomera
Fleckendelfine – Atlantic spotted dolphins – Delfines moteados
Pilotwale – Pilot whales – Calderones tropicales
Montag, 17. Februar 2020
Sichtungen – Sightings – Avistamientos – Observations La Gomera
Fleckendelfine – Atlantic spotted dolphins – Delfines moteados
Pilotwale – Pilot whales – Calderones tropicales
Grosse Tümmler – Bottlenose dolphins – Delfines mulares
Gewöhnliche Delfine – Common Dolphins – Delfines comunes
Sonntag, 16. Februar 2020
Sichtungen – Sightings – Avistamientos – Observations La Gomera
Fleckendelfine – Atlantic spotted dolphins – Delfines moteados
Pilotwale – Pilot whales – Calderones tropicales
Grosse Tümmler – Bottlenose dolphins – Delfines mulares
Samstag, 15. Februar 2020
Sichtungen – Sightings – Avistamientos – Observations La Gomera
Fleckendelfine – Atlantic spotted dolphins – Delfines moteados
Pilotwale – Pilot whales – Calderones tropicales
Gewöhnlicher Delfin – Common Dolphin – Delfin comun
Freitag, 14. Februar 2020
Sichtungen – Sightings – Avistamientos – Observations La Gomera
Fleckendelfine – Atlantic spotted dolphins – Delfines moteados
Pilotwale – Pilot whales – Calderones tropicales
Grosse Tümmler – Bottlenose dolphins – Delfines mulares
Donnerstag, 13. Februar 2020
Sichtungen – Sightings – Avistamientos – Observations La Gomera
Grosse Tümmler – Bottlenose dolphins – Delfines mulares
Fleckendelfine – Atlantic spotted dolphins – Delfines moteados
Pilotwale – Pilot whales – Calderones tropicales
Mittwoch, 12. Februar 2020
Sichtungen – Sightings – Avistamientos – Observations La Gomera
Pilotwale – Pilot whales – Calderones tropicales
Fleckendelfine – Atlantic spotted dolphins – Delfines moteados
Dienstag, 11. Februar 2020
Sichtungen – Sightings – Avistamientos – Observations La Gomera
Fleckendelfine – Atlantic spotted dolphins – Delfines moteados
Pilotwale – Pilot whales – Calderones tropicales
Montag, 10. Februar 2020
Sichtungen – Sightings – Avistamientos – Observations La Gomera
Fleckendelfine – Atlantic spotted dolphins – Delfines moteados
Sonntag, 9. Februar 2020
Sichtungen – Sightings – Avistamientos – Observations La Gomera
Grosse Tümmler – Bottlenose dolphins – Delfines mulares
Fleckendelfine – Atlantic spotted dolphins – Delfines moteados
Pilotwale – Pilot whales – Calderones tropicales
Samstag, 8. Februar 2020
Sichtungen – Sightings – Avistamientos – Observations La Gomera
Pilotwale – Pilot whales – Calderones tropicales
Grosse Tümmler – Bottlenose dolphins – Delfines mulares
Fleckendelfine – Atlantic spotted dolphins – Delfines moteados
Freitag, 7. Februar 2020
Sichtungen – Sightings – Avistamientos – Observations La Gomera
Pilotwale – Pilot whales – Calderones tropicales
Grosse Tümmler – Bottlenose dolphins – Delfines mulares
Fleckendelfine – Atlantic spotted dolphins – Delfines moteados
Donnerstag, 6. Februar 2020
Sichtungen – Sightings – Avistamientos – Observations La Gomera
Fleckendelfine – Atlantic spotted dolphins – Delfines moteados
Meeresschildkröte – Sea turtle – Tortuga marina
Grosse Tümmler – Bottlenose dolphins – Delfines mulares
Mittwoch, 5. Februar 2020
Sichtungen – Sightings – Avistamientos – Observations La Gomera
Fleckendelfine – Atlantic spotted dolphins – Delfines moteados
Pilotwale – Pilot whales – Calderones tropicales
Grosse Tümmler – Bottlenose dolphins – Delfines mulares
Samstag, 1. Februar 2020
Sichtungen – Sightings – Avistamientos – Observations La Gomera
Pilotwale – Pilot whales – Calderones tropicales
Gewöhnlicher Delfin – Common Dolphin – Delfin comun
Brydewal – Bryde's whale – Rorcual tropical- Rorqual tropical
Freitag, 31. Januar 2020
Sichtungen – Sightings – Avistamientos – Observations La Gomera
Pilotwale – Pilot whales – Calderones tropicales
Grosse Tümmler – Bottlenose dolphins – Delfines mulares
Donnerstag, 30. Januar 2020
Sichtungen – Sightings – Avistamientos – Observations La Gomera
Fleckendelfine – Atlantic spotted dolphins – Delfines moteados
Pilotwale – Pilot whales – Calderones tropicales
Gewöhnlicher Delfin – Common Dolphin – Delfin comun
Mittwoch, 29. Januar 2020
Sichtungen – Sightings – Avistamientos – Observations La Gomera
Pilotwale – Pilot whales – Calderones tropicales
Grosse Tümmler – Bottlenose dolphins – Delfines mulares
Meeresschildkröte – Sea turtle – Tortuga marina
Dienstag, 28. Januar 2020
Sichtungen – Sightings – Avistamientos – Observations La Gomera
Pilotwale – Pilot whales – Calderones tropicales
Fleckendelfine – Atlantic spotted dolphins – Delfines moteados
Montag, 27. Januar 2020
Sichtungen – Sightings – Avistamientos – Observations La Gomera
Pilotwale – Pilot whales – Calderones tropicales
Grosse Tümmler – Bottlenose dolphins – Delfines mulares
Meeresschildkröte – Sea turtle – Tortuga marina
Sonntag, 26. Januar 2020
Sichtungen – Sightings – Avistamientos – Observations La Gomera
Fleckendelfine – Atlantic spotted dolphins – Delfines moteados
Pilotwale – Pilot whales – Calderones tropicales
Grosse Tümmler – Bottlenose dolphins – Delfines mulares
Meeresschildkröte – Sea turtle – Tortuga marina
Samstag, 25. Januar 2020
Sichtungen – Sightings – Avistamientos – Observations La Gomera
Fleckendelfine – Atlantic spotted dolphins – Delfines moteados
Pilotwale – Pilot whales – Calderones tropicales
Gewöhnlicher Delfin – Common Dolphin – Delfin comun
Freitag, 24. Januar 2020
Sichtungen – Sightings – Avistamientos – Observations La Gomera
Pilotwale – Pilot whales – Calderones tropicales
Gewöhnlicher Delfin – Common Dolphin – Delfin comun
Donnerstag, 23. Januar 2020
Sichtungen – Sightings – Avistamientos – Observations La Gomera
Fleckendelfine – Atlantic spotted dolphins – Delfines moteados
Mittwoch, 22. Januar 2020
Sichtungen – Sightings – Avistamientos – Observations La Gomera
Meeresschildkröte – Sea turtle – Tortuga marina
Pilotwale – Pilot whales – Calderones tropicales
Dienstag, 21. Januar 2020
Sichtungen – Sightings – Avistamientos – Observations La Gomera
Pilotwale – Pilot whales – Calderones tropicales
Grosse Tümmler – Bottlenose dolphins – Delfines mulares
Fleckendelfine – Atlantic spotted dolphins – Delfines moteados
Meeresschildkröte – Sea turtle – Tortuga marina
Sonntag, 19. Januar 2020
Sichtungen – Sightings – Avistamientos – Observations La Gomera
Pilotwale – Pilot whales – Calderones tropicales
Grosse Tümmler – Bottlenose dolphins – Delfines mulares
Fleckendelfine – Atlantic spotted dolphins – Delfines moteados
Meeresschildkröte – Sea turtle – Tortuga marina
Freitag, 17. Januar 2020
Sichtungen – Sightings – Avistamientos – Observations La Gomera
Pilotwale – Pilot whales – Calderones tropicales
Fleckendelfine – Atlantic spotted dolphins – Delfines moteados
Meeresschildkröte – Sea turtle – Tortuga marina
Donnerstag, 16. Januar 2020
Sichtungen – Sightings – Avistamientos – Observations La Gomera
Pilotwale – Pilot whales – Calderones tropicales
Grosse Tümmler – Bottlenose dolphins – Delfines mulares
Fleckendelfine – Atlantic spotted dolphins – Delfines moteados
Sonntag, 12. Januar 2020
Sichtungen – Sightings – Avistamientos – Observations La Gomera
Pilotwale – Pilot whales – Calderones tropicales
Fleckendelfine – Atlantic spotted dolphins – Delfines moteados
Gewöhnlicher Delfin – Common Dolphin – Delfin comun
Samstag, 11. Januar 2020
Sichtungen – Sightings – Avistamientos – Observations La Gomera
Pilotwale – Pilot whales – Calderones tropicales
Grosse Tümmler – Bottlenose dolphins – Delfines mulares
Fleckendelfine – Atlantic spotted dolphins – Delfines moteados
Brydewal – Bryde's whale – Rorcual tropical- Rorqual tropical
Freitag, 10. Januar 2020
Sichtungen – Sightings – Avistamientos – Observations La Gomera
Pilotwale – Pilot whales – Calderones tropicales
Grosse Tümmler – Bottlenose dolphins – Delfines mulares
Fleckendelfine – Atlantic spotted dolphins – Delfines moteados
Brydewal – Bryde's whale – Rorcual tropical- Rorqual tropical
Gewöhnlicher Delfin – Common Dolphin – Delfin comun
Donnerstag, 9. Januar 2020
Sichtungen – Sightings – Avistamientos – Observations La Gomera
Pilotwale – Pilot whales – Calderones tropicales
Grosse Tümmler – Bottlenose dolphins – Delfines mulares
Bartenwal – Baleene Whale – Rorcual
Mittwoch, 8. Januar 2020
Sichtungen – Sightings – Avistamientos – Observations La Gomera
Pilotwale – Pilot whales – Calderones tropicales
Grosse Tümmler – Bottlenose dolphins – Delfines mulares
Dienstag, 7. Januar 2020
Sichtungen – Sightings – Avistamientos – Observations La Gomera
Grosse Tümmler – Bottlenose dolphins – Delfines mulares
Fleckendelfine – Atlantic spotted dolphins – Delfines moteados
Brydewal – Bryde's whale – Rorcual tropical- Rorqual tropical
Streifendelfine -Striped dolphins – Delfines listados
Montag, 6. Januar 2020
Sichtungen – Sightings – Avistamientos – Observations La Gomera
Pilotwale – Pilot whales – Calderones tropicales
Grosse Tümmler – Bottlenose dolphins – Delfines mulares
Fleckendelfine – Atlantic spotted dolphins – Delfines moteados
Brydewal – Bryde's whale – Rorcual tropical- Rorqual tropical
Streifendelfine -Striped dolphins – Delfines listados
Sonntag, 5. Januar 2020
Sichtungen – Sightings – Avistamientos – Observations La Gomera
Pilotwale – Pilot whales – Calderones tropicales
Grosse Tümmler – Bottlenose dolphins – Delfines mulares
Samstag, 4. Januar 2020
Sichtungen – Sightings – Avistamientos – Observations La Gomera
Fleckendelfine – Atlantic spotted dolphins – Delfines moteados
Meeresschildkröte – Sea turtle – Tortuga marina
Freitag, 3. Januar 2020
Sichtungen – Sightings – Avistamientos – Observations La Gomera
Brydewal – Bryde's whale – Rorcual tropical- Rorqual tropical
Grosser Tümmler – Bottlenose dolphins – Delfines mulares
Meeresschildkröte – Sea turtle – Tortuga marina